Site Layout For Entire Pages
You can change your Layout setting from the Customize menu (Appearance > Customize > Theme settings > Site Layout).
The default layout is : Content – Primary Sidebar. You do not need to change anything if you do not want to switch the sidebar position. 
Changing this will change the entire page.
Different Site Layout For Spesific Page
You can choose a specific layout setting for each page or post. To do this, go to the page/post you want to change (not the Customizer)
See image bellow, click the G icon to make the panel show up, scroll down until you see "Layout". Select which layout you want to have for that specific page / post. For example, for About page, you want full width layout with no sidebar, then choose "Full width content".
Show Featured image with a little bit of text and read more button
To make the blog post look like in the demo (featured image with a little bit of text and read more button) follow this setting bellow.
Change your content so it only shows the excerpts.
The default setting is Entry Content (all your content will appear). Choose Display: "Entry Excerpts" to have an automatic read more button in each post and make sure "Include the Featured Image" is checked.
Image size : autoreadmore (Please note, the featured image size for each theme is different, make sure to check out the numbers in the setting).
Image alignment : center.
Click Publish to save.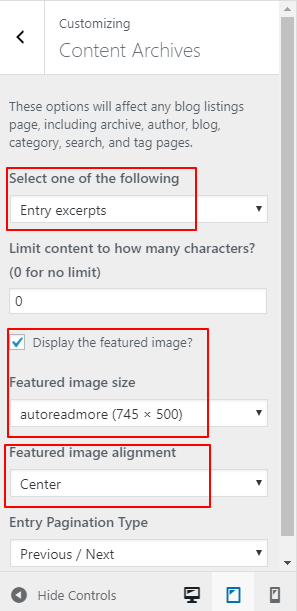 Show All Content Text (Insert Read More Manually)
The Image below is the default setting of the Genesis Framework content archive. You will need to add the "read more" button manually.