Blog Post/Layout Setting
You can change your Blog Layout setting from the Customize menu (Appearance > Customize).
1. Site Layout
You can change default layout from Genesis Layout. The default layout is : Content – Primary Sidebar. You do not need to change anything if you do not want to switch the sidebar position. Click Publish to save.
Please note : Depending on the theme you purchased, not all themes have 3 columns layout.

2. Content Archives
Change your content so it only shows the excerpts. The default setting is Entry Content (all your content will appear). Choose Display: "Entry Excerpts" to have automatic read more button in each post and make sure "Include the Featured Image" is checked. Image size : autoreadmore, image alignment : center. Click Publish to save.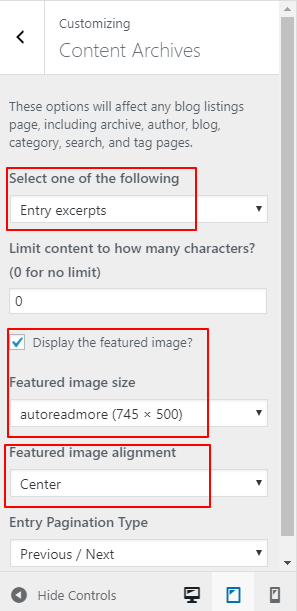 3. Showing All Content (Insert Read More Manually)
The Image below is the default setting of the Genesis Framework content archive. You will need to add the "read more" button manually.