Sora – Latest post slider
The slider can be used to display latest posts or display selected posts.
Install and Activate the plugin (Genesis Responsive Slider) as recommended after the theme is activated.
First, Prepare the posts with an image (portrait position with large size recommeded size : 1300px x 500px or larger than this number)
Next, Go to Genesis menu > Slider settings. Tweak the setting here.
Transition Settings
Slider Effect: Fade
Display Settings
Maximum Slider Width (in pixels): 1300
Maximum Slider Height (in pixels): 500
x Display Next / Previous Arrows in Slider? (unchecked)
✓ Display Pagination in Slider?

Content Settings
x Do not link Slider image to Post/Page. (unchecked)
✓ Display Post/Page Title in Slider? (checked)
✓ Display Content in Slider? (checked)
✓ Hide Title & Content on Mobile Devices (checked)
Select one of the following: Display Post Content
More Text (if applicable): Read the Post
Limit content to : 150 characters
Slider Excerpt Width (in percentage):  50
Excerpt Location (vertical): Bottom
Excerpt Location (horizontal): Right
See in picture for detail :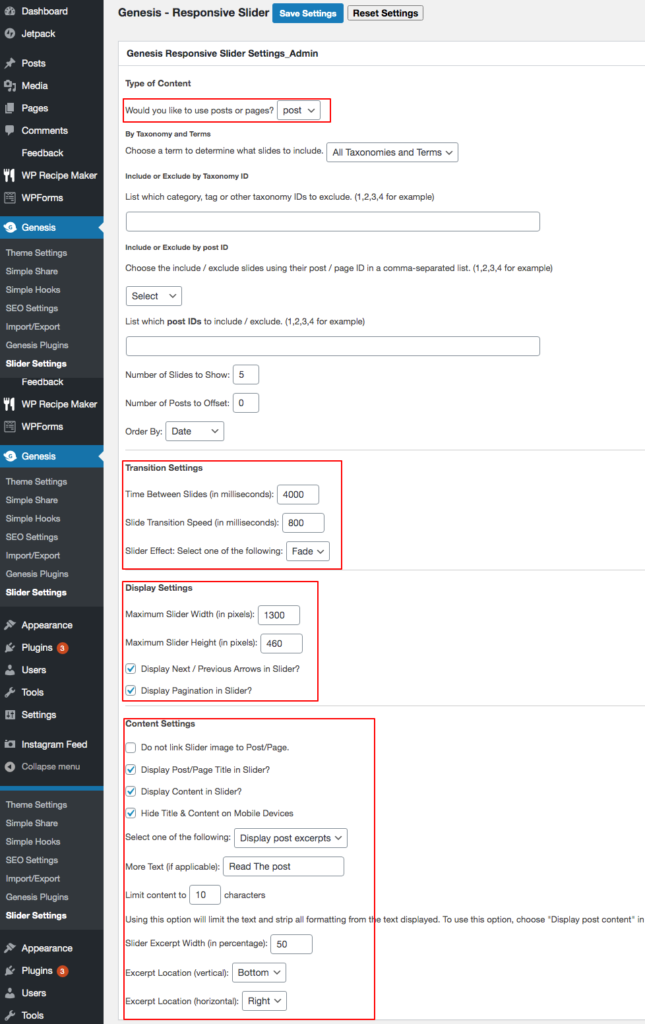 3. Save the setting, then go to Appearance >Customize or Appearance > Widgets.
4. Find "Front page widget 1" and then drag and drop "Genesis – Responsive Slider" widget to that area.